Hiking and walks
The Luberon is an area of outstanding beauty, featuring cliffs, gorges and combes, deep luxuriant valleys, and arid plateaus. This patchwork of landscapes typical of our region can ideally be explored on foot or mountain bike.
Cedar forest
The cedar forest of the Petit Luberon has a fascinating history in the field of forestry work. Its trees – grown from seeds collected in Algeria's Middle Atlas region and planted as from 1861 – cover an expanse of about 250 hectares between the communes of Bonnieux, Lacoste and Ménerbes. It is crossed by hiking paths from Bonnieux to Taillades.
Buoux cliffs
These cliffs are located in the hollow formed by the valley of Aiguebrun in the Buoux commune at the very heart of the Luberon. These breathtakingly beautiful cliffs, which are known world-wide, are a big attraction for top-ranking climbers but they can also be admired from paths criss-crossing the side of Aiguebrun valley.
The Véroncle gorges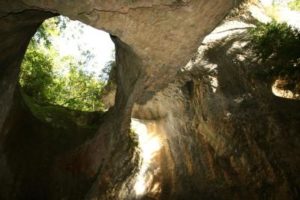 The Véroncle gorges are a natural beauty spot lying between the villages of Murs and
Joucas. They contain impressive relics of the ingenuity of local people who harnessed the stream's used hydro-power to operate the grinding wheels in their flour mills. A tree-shaded path will lead you to these fascinating installations.
Provence's Colorado
Carved out back in the days when the area's ochre quarries were in operation in this area and then modified by erosion, the Provencal Colorado at Rustel is an outstanding site that should not be missed.
Petit Luberon and Grand Luberon
The limestone mountains of the Petit Luberon and Grand Luberon offer a vast range of hiking paths, offering a wealth of narrow gorges and combes to be discovered, as well as wild, remote valleys testifying to the previous existence of a well-developed pastoral way of life (with water mills, water storage basins and charcoal manufacturing areas). Along the way, there are views ranging from the rocky Ventoux mountain in the north to the course of the Durance river in the south.